Square Sugar Cookies
Chocolate Butter Cream Frosting
Small Gumdrops in green, white, and orange (optional: large green gumdrops)
"Air Heads" – full size
Extra Large "Tootsie Roll" Candy
Mini "M & M's" – red and orange
"Sour Punch Straws" candy – green
"Nerds" candy – green
"Reece's pieces" or "M & M's" – brown
Mini pretzel sticks
Parchment Paper
Sharp knife
Sugar Cookie Recipe, or make your own favorite recipe:
(Recipe from Mel's Kitchen Cafe)

¾ cup butter, softened to cool room temperature
¾ cup granulated sugar
¼ cup powdered sugar
2 large eggs
½ tsp vanilla
2 ½ cups all-purpose flour
1 teaspoon baking powder
½ teaspoon salt

In a large bowl, cream together the butter, granulated sugar and powdered sugar for 3-4 minutes, until the mixture is light and fluffy. Add the eggs one at a time, mixing well after each addition. Add vanilla extract and mix. Add one cup flour, baking powder and salt. Mix. Add remaining flour and mix just until flour is incorporated and the dough is smooth and soft. Flatten the dough into a thick disk and cover in plastic wrap. Refrigerate for at least an hour.

Roll the dough out to about ¼ inch thick. Cut strips 3 inches wide, then cut strips into 3 inch sections for squares.

Preheat the oven to 350 degrees F. Place the cookies on a parchment lined cookie sheet and bake for 9-11 minutes until set but not over-baked. Let the cookies cool for 1-2 minutes on the baking sheet before transferring to a wire rack to cool.
Chocolate Frosting Recipe, or make your own favorite recipe:
(Recipe from "Betty Crocker" cookbook)

½ cup solid shortening or butter
1 tablespoon cold water
½ cup cocoa powder
1 and ½ cups powdered sugar

Using an electric hand mixer, mix together shortening and water, gradually add cocoa powder and powdered sugar, mixing with each addition until smooth.
Garden Cookie Candy Decorating Instructions:

Garden Cookie #1 - Radishes, Carrots, and Seedlings
Garden Cookie #2 - Cauliflower/Cabbage & Wheelbarrow
Garden Cookie #3 - Pumpkin/Squash Patch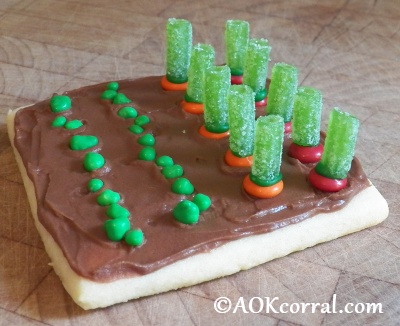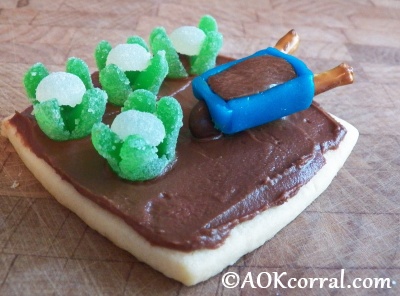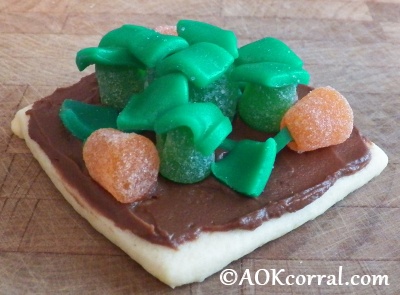 Project
Options:

1.) Read or Print this project from our website, as is, for free.

2.) Purchase Easy Print Version - Download NOW:

Convenient - NO ads, menus, or margins - Save ink and paper
Complete - All instructions & patterns for this project